Happy 'Valentines' Day! No, I haven't got my dates mixed up, January 25th is
St Dwynwen's Day
- the Welsh Valentine's Day! There are several legends about St Dwynwen, this is one of the most popular: Dwynwen was the beautiful daughter of Brychan Brycheiniog. She fell in love with a prince called Maelon Dafodrill, but unfortunately her father had already arranged that she should marry someone else.
Dwynwen was so upset that she could not marry Maelon that she begged God to make her forget him. After falling asleep, Dwynwen was visited by an angel, who appeared carrying a sweet potion designed to erase all memory of Maelon and turn him into a block of ice. He then gave three wishes to Dwynwen. Her first wish was that Maelon be thawed; her second that God meet the hopes and dreams of true lovers; and third, that she should never marry. Dwynwen became a nun, fulfilling her wish to never marry, and left for the island of Anglesey to build a Church. This is referred to as Llanddwynwen, literally meaning
'Church of Dwynwen'.
Isn't that a romantic (if rather sad) story?
The lighthouse and cross at Llanddwynwen
(Picture courtesy of Wikipaedia)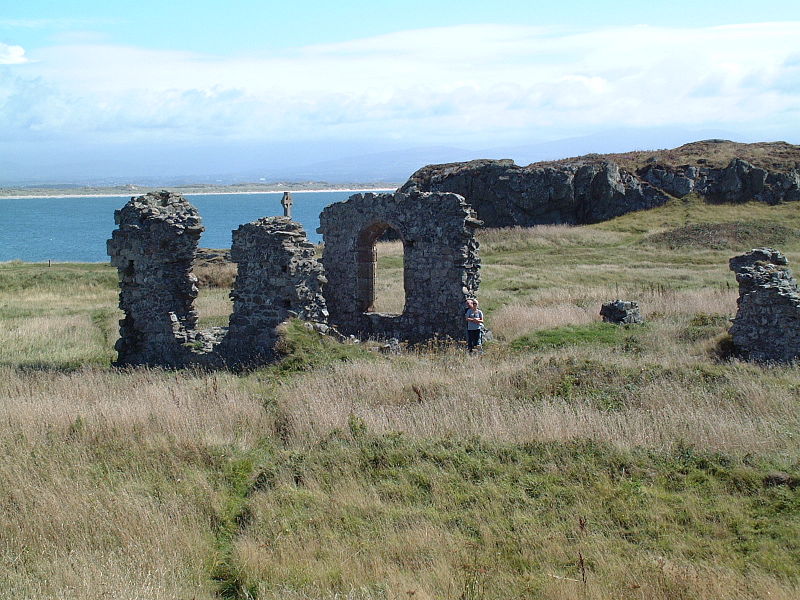 The remains of St Dwynwen's Church today
Oh, and of course Happy Burns Night to our friends North of the Border!
For insider news and subscriber-only info, subscribe to my occasional Newsletter. I promise not to spam and your in-box will only see an email from me every 3 or 4 months or so - unless of course I have something really Newsworthy to share! http://madmimi.com/signups/196357/join Every new subscriber will get a FREEdownload of my fantasy novella 'Dancing With Fate' (If this doesn't arrive within two days just email me at hywelalyn@btinternet.com)