Hello dear readers! I hope you're staying safe and well- today I'm going to tell you about the Welsh faeries, Y Tylwyth Teg (Pronounced 'er-tulwith teg)
Known by the native Welsh people as "Y Tylwyth Teg" ("the fair folk") Welsh faeries typically live in lakes or streams and sometimes in hill hollows.
The are said to ride on Welsh Corgis, or use them to draw little carts. (The Welsh Corgi comes in two types, the Cardiganshire Corgi which has a long tail, and the Pembrokeshire, which has no tail at all.) They were traditionally used as cattle herding dogs by Welsh farmers, and the original two corgis were said to have been given to two human children by the TylwythTeg.
Welsh faery-lore is believed to be closely related to the legend of King Arthur and Guinevere; some believe her abduction by Arthur was abduction by the faeries – of whom Arthur was King.
The magical entities are said to resemble outstandingly beautiful humans, with blue eyes and blonde-white hair. Smaller fairies are normally more virtuous and kindly- the taller fairies tending to be more mischievous and dishonest.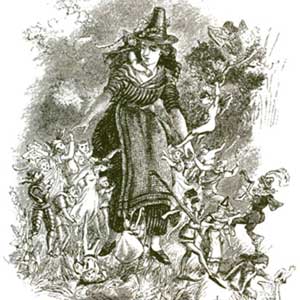 Usually they dress in green, but the courtiers of the Welsh Fairy King Gwyn ap Nudd are described as being adorned in blue/red silk. In Welsh folklore faery interactions with humans feature quite heavily and kind and mindful mortals are typically rewarded with magic and the anyone found to be greedy or spiteful would be harshly punished.
There are various tales of humans being trapped in the fairy realm and the intermarriage between faeries and humans. The most famous faery tale is that of a beautiful young Cardiganshire woman called Shuï Rhys, who allegedly went away with Y Tylwyth Teg and never returned
She was the daughter of poor farmer, and one of her duties was to drive up the cows to the milking parlour. She would often loiter to pick flowers, or chase the butterflies, which caused her mother to scold her sharply. One night Shuï did not come home until bed-time, leaving the cows to care for themselves. Dame Rhys was furious but the girl told her it was the fault of the Tylwyth Teg. She said they were little men in green coats, who danced around her and made music on their tiny harps. Her mother believed the tale because it was well known that the Tylwyth Teg inhabited the woods in Cardiganshire.
Many times after that Shuï was late coming home, but her mother stopped scolding her, for fear of offending the faery folk.
One night Shuï did not come home at all, and although the family and friends searched the woods, she was never seen again. Her mother watched in the field on the three nights of the year when goblins are sure to be out and about, but Shuï never returned.
Another story concerns Llyn Cwm Llwch, a small Welsh lake that is situated in the Brecon Beacons of Powys. It is associated with some rather strange legends and folklore. One relates the story of the Tylwyth Teg and an invisible island,
According to local legend, the lake was the abode of the Tylwyth Teg, or the Fair Folk, who had a garden on an invisible island in the lake. On May Day every year, it was said a doorway would appear in a rock by the lakeside. Those humans who were brave enough could pass through it into a passage, which would take them into an enchanted garden situated on the island in the lake. Although visitors to the island could clearly see the shores of the lake, the island and the garden were not visible from the lake's shore.
Those who ventured through the door and down the passage entered into a wonderful land with gorgeous flowers of the most beautiful colours and intoxicating scents. These were visited by brightly-coloured butterflies and dragonflies, and songbirds sang e as they flitted through the branches of the trees.
In this glorious setting, the Tylwyth Teg provided their guests by with food and drink unlike anything to be found on Earth. Then they entertained them with songs, music, and amazing stories. All the Tylwyth Teg asked of their guests was that they should not take with them a single item from the island or garden when they returned tto the land of mortals.
However, humans have short memories while the Tylwyth Teg never forget. There had never been a single transgression of this rule since the time when they first opened the door. But one day, one irresponsible and ungrateful guest decide he wanted something more than just a memory of his wonderful time upon the island. He picked a beautiful flower which had never been seen in the mortal world, and hid it in the inside of his jacket pocket. The second he stepped out of the door and placed his foot on earth, his senses all left him. He fell to walking round backwards in circles and talking nonsense, and lost all ability to reason, and eventually dropped down dead.
The Tylwyth Teg took leave of their guests with their usual good manners and courtesy. However, the following May Day the door did not appear. Nor was it seen again in the years that followed. and to this day, the door to the enchanted garden on the island of the Tylwyth Teg has never appeared again.
FREE AUDIOBOOKS
If you're at a loose end in these strange and rather scary times, there are many great books out there to be read, try a new author.
If you'd like to listen to a book rather than read it, again there are some really great books available in audio.
(You can get my own
Destiny Trilogy f
or FREE.)
GET YOUR
FREE CODES
NOW:
Starquest
: https://freeaudiobookcodes.com/book_details.php?BOOK_ID=2735
Children
of the Mist:
freeaudiobookcodes.com/book_details.p
Beloved
Enemy:https://freeaudiobookcodes.com/book_details.php?BOOK_ID=3285
For insider news and subscriber-only info, subscribe to my occasional Newsletter. I promise not to spam and your in-box will only see an email from me every 3 or 4 months or so - unless of course I have something really Newsworthy to share! I also promise that I never have and never will share your information or email address with anyone or any organisation.
http://madmimi.com/signups/196357/join